SECURE, RELIABLE AND PRIVATE SPANISH PROXY SERVER

Use the internet from anywhere in the world from a Spanish based IP address
The Scothosts Group are delighted to present Spanish Proxy and Spain VPN IP address solutions from only £6.25 per month based on our annual subscription price.

The servers we use to offer this low cost service are all physically located within Spain and will therefore allow international users to access the internet with a Spanish IP address instead of the IP address provided by your ISP (Internet Service Provider).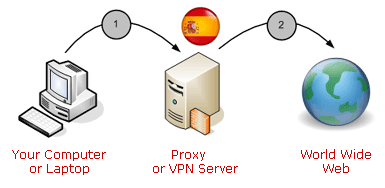 The benefits include:
Security and Privacy High Speed Data Transfer Rates
International ISP Bypass (Internet Banking, Corporate Networks, Religious/Political Restrictions etc.)
Reliable Worldwide Website Connectivity and Firewall Bypass
Speeds up access to web resources
Scans transmitted content for malware before delivery to your browser
For Spanish web users only:
You must have an active internet connection to use a proxy or vpn server, please visit our FAQ to learn more.
* Important – Please be advised that terms and conditions of usage may apply and you should always check with the specific websites prior to using their television streaming, download services and any products/services offered by the these third party websites. Please also refer to clause 2 of our Terms & Conditions.


OUR PROXY AND VPN SOLUTIONS

SYSTEM STATUS / ANNOUNCEMENTS




| | | |
| --- | --- | --- |
| Follow Us: | | |